R. KELLY INVESTIGATION UNCOVERS 20 UNDERAGE SEX TAPES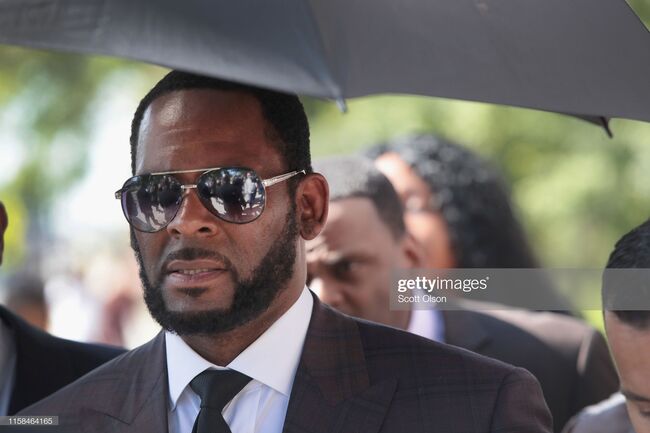 New details have surfaced inR. Kelly's recent arrest on federal sex crime charges. According toTMZ, the singer was taken into custody by federal agents on a 13-count indictment related to child pornography and other federal crimes. Investigators in the Northern District of Illinois have since uncovered over 20 videos of Kelly engaged with minors. 
According toRap-Up, the footage, which allegedly shows Kelly having sex with underage girls, was given to the feds by his inner circle — which includes past and present enablers and employees. 
PerGerald Griggs, the lawyer forJoycelyn Savage's family, and federal law enforcement sources, the tapes show numerous victims that were reportedly underage. Griggs also said that the videos were what the police needed to secure indictments for sex crimes, including child pornography.
Kelly was arrested by NYPD detectives and Homeland Security Investigation agents in Chicago after a federal grand jury handed over a 13-count indictment, including four counts of producing child pornography, two counts of receiving child pornography, enticement of a minor and obstruction of justice.
Kelly is also facing a separate indictment in Brooklyn, where he is being charged with one count of racketeering and four counts of violating the Mann Act — which prohibits transporting people across state lines for the purpose of prostitution.
Also,Complexreports that Kelly and his then-manager,Derrel McDavidare accused of engaging in a conspiracy that involved intimidating, threatening, pressuring, persuading, and attempting to persuade individuals with alleged access to reported videotapes of Kelly engaging in sexual acts with minors to return said tapes.
On another note, a press conference was held on Friday morning (12th) in Atlanta by R. Kelly's publicist,Darrell Johnson. However, according to Complex, the press conference was interrupted by the family of Kelly's alleged victim, Joycelyn Savage.Timothy Savageshouted during the press conference, "I don't wanna hear all that. I wanna know where my daughter's at! Answer that question!" 

DJ Chip
Want to know more about DJ Chip? Get their official bio, social pages & articles!